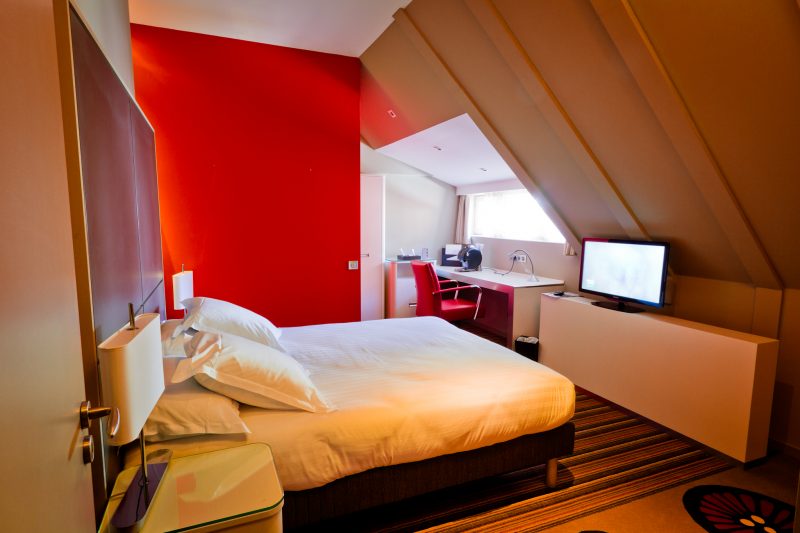 Looking for a hotel for your business trip to Basel or in southern Alsace? In Saint-Louis, La Villa K**** is ideally located. Discover the hotel and its quality services!
Hotel location
The La Villa K is located in the centre of Saint-Louis (68300), only 5 minutes from the EuroAirport. This hotel is perfect for professionals travelling to southern Alsace on business (near Huningue,  Hégenheim, Bartenheim, Sierentz, Blotzheim, Attenschwiller, Hesingue, Village-Neuf, Chalampé, Ottmarsheim) or in Switzerland (Basel, Allschwil…).
By plane, car, or train, the hotel is easily accessible: the Saint-Louis train station is just 2 minutes from the hotel, the A35 motorway connects to Saint-Louis and Basel, and the Basel-Mulhouse airport is only 5 minutes away. Our Park'n Fly package includes an airport-hotel shuttle. Take advantage of it!
From the hotel you can easily get to different commercial areas and local companies (Novartis, Roche, DSM, Cryostar, Diehl Metering, Unisto, Bubendorff, Weleda, Panalpina…).
A 4-star hotel that offers many services
You'll love La Villa K's modern atmosphere encapsulated within a typically Alsatian building.   A warm and luxurious decor awaits, in the communal areas and hotel rooms alike.
Our ultra-comfortable rooms (king size beds, jetted bathtubs…) make your stay in southern Alsace as pleasant as possible. The same goes for our quality services: spa (hammam, Jacuzzi, sauna, relaxing treatments), restaurant (refined cuisine and excellent wines), fitness room, electric bike hire, laundry service, and many others.
La Villa K Hotel and Spa****– 1 rue de Lectoure 68300 Saint-Louis-France.
La Cave Restaurant: Open every day from 7 am until midnight – serving from 12pm untl 2:30pm and 7:30pm until 10:45pm – including Sunday.