The Beyeler Foundation is a Swiss cultural institution Switzerland located in Riehen, not far from Basel. Opened in 1997, it houses a collection of 250 modern and contemporary works of art. Taking its name and collection from the gallerist Ernst Beyeler and his wife Hildy, today the museum is a work of art itself.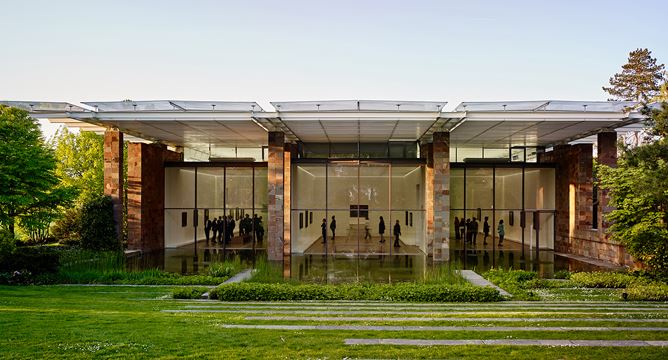 The Beyeler Museum: a cross between architecture, art, and nature
The Beyeler Foundation's goal is to introduce works of art and foster exchanges between novices, aficionados, and experts of modern and contemporary art.
The museum permanently exhibits the "Beyeler Collection" to promote art and particularly to awaken the curiosity and interest that young people have in art. The museum team has most notably put in place workshops and guided tours for children.
The guided tours are varied and are organised by theme (based on the museum's architecture, adapted to the hard of hearing or visually impaired, etc.).
With its glass facade overlooking large wheat fields and vines that cover the Collines Tüllinger, this museum lets you learn about art in sumptuous surroundings. Located in Berowerpark, not far from the Calder mobile, the Beyeler Foundation has been designed by the famous architect Renzo Piano. The stunning architecture of the museum alone provides a fantastic entry in to the world of art.
Sleep and eat near the Beyeler Foundation
Located in Saint-Louis in southern Alsace, La Villa K**** welcomes you into its casual-chic atmosphere. The hotel is housed in an old building whose charm has been preserved, while being highlighted by stylish decoration.
More than 40 rooms and suites await, with king size beds, whirlpool tubs, and massaging showers.
For your comfort, the hotel has a spa and a restaurant with wine bar.
La Villa K – 4-star Hotel Spa Restaurant located in Saint-Louis (Alsace), 5 minutes from the EuroAirport (Basel-Mulhouse-Fribourg) and Switzerland.
1 rue de Lectoure, 68300 Saint-Louis – Tel: 03 89 70 93 40