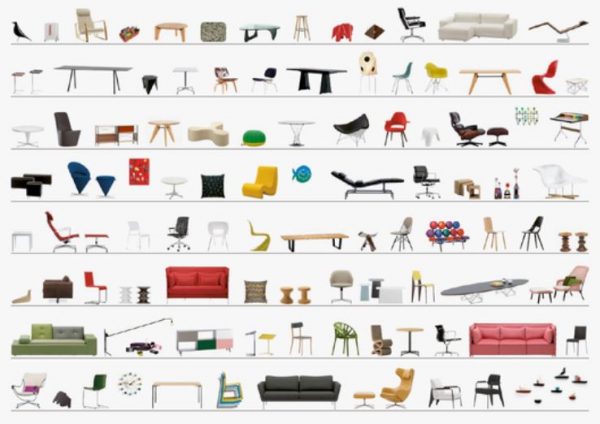 Between the contemporary architecture of the buildings and the many items and furniture on display, the Vitra Design Museum is one of the most beautiful design museums in the world.
The creation of a design museum, a leader in its field
Located in Weil am Rhein in Germany, the Vitra Design Museum promises an unforgettable visit. Upon your arrival, you'll be captivated by the unique architecture of the main building. Designed by Frank Gehry, an American architect, this spectacular building perfectly reflects the unique and quirky style of its creator.
Inside, the sobriety of the exhibition halls contrasts with the arresting architecture of the building.
The museum was born out an idea by the Swiss furniture manufacturer, Vitra, to construct this type of building, following a fire in its factories. Today the museum hosts exhibitions and shows centred around architecture, design, and furniture. An inspiring and avant-garde location for some, a place of discovery for others, the Vitra Design Museum never fails to impress.
Here you will find creations by renowned figures in architecture and design, such as:  Tadao Ando, Zaha Hadid, Jean Prouvé or even Renzo Piano.
It's a beautiful space to visit and in which to view the interesting displays that stir curiosity…
Lodging near the Vitra Design Museum
If you're staying in the area for one or more days, come relax at our hotel after a long and lovely day at the museum. La Villa K is a 4 star establishment located in Saint-Louis, just a few minutes from Weil am Rhein and EuroAirport.
Take advantage of our airport shuttle service, secure car park, and enjoy the inviting atmosphere within a very modern hotel. The restaurant and spa can also add to your trip, including a fantastic wine cellar for wine aficionados!