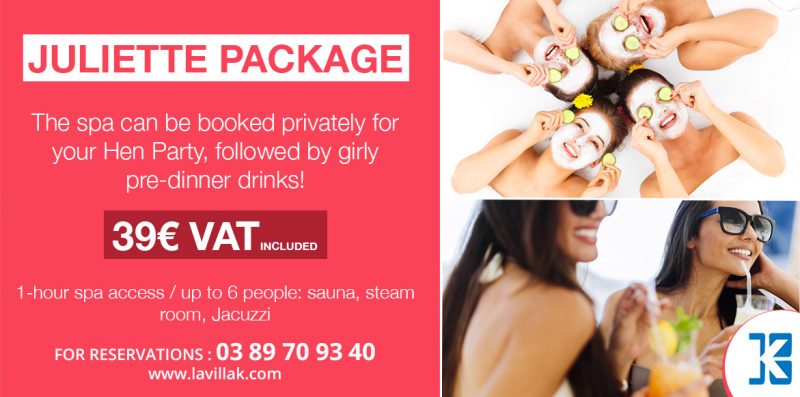 Are you organising a Hen Party for your friend and looking for an idea that's sure to please everyone? The La Villa K**** hotel in Saint-Louis will open its spa to you. Discover our special offer!
The spa: an essential part of any Hen Party
Located in Saint-Louis (Haut-Rhin), our Spa is ready to welcome you for a delicious afternoon with your friends. By choosing a calm and relaxing activity, you are certain to make the future bride happy, as well as every other member of the party.
Guaranteed cosiness: the spa has a sauna, steam room, and Jacuzzi that you can privately book for a Hen Party.
Our  "Juliette" package includes private spa access followed by a girly pre-dinner drink. This girls-only event lets you enjoy the steam room, sauna, and Jacuzzi for 1 hour (up to 6 people).
Juliette package rate: 39€ VAT included – Call 03 89 70 93 40 for reservations
It's also possible to include massages and beauty treatments: learn more about our spa treatment list).
After the spa… An excellent meal
Make your Hen Party unforgettable by prolonging the fun: our hotel also has a restaurant, La Cave. Gather together around the table to sample delicious dishes and enjoy some of the wines from our wine list created by wine merchant Au Monde du Vin.
We regularly organise activities in our restaurant: Cooking classes, wine tasting… You can find many ideas for activities that will add to the fun of your friend's Hen Party.
And why not a whole Hen Party weekend?
Get the entire La Villa K experience by spending the weekend in our 4-star hotel. You can enjoy one of our many modern, fully equipped rooms with a casual-chic atmosphere. Some of them even have lounge chairs and whirlpool tubs for a weekend that's 100% relaxing.
For your Hen Party weekend, there's plenty to do in the Saint-Louis area. We wholeheartedly suggest the following ideas:
White water park in Huningue (kayak, hydrospeed, rafting and other aquatic activities)
The casino in Blotzheim
The "Megazone" laser games in Saint-Louis
Shows, plays, and films at the La Coupole in Saint-Louis
Visit the city of Basel in Switzerland (many museums, a zoo, discos, shopping…)
Getting to the La Villa K
The La Villa K spa is located 5 minutes from the Basel Mulhouse Freiburg EuroAirport, 25 minutes from Mulhouse, and 30 minutes from Altkirch.