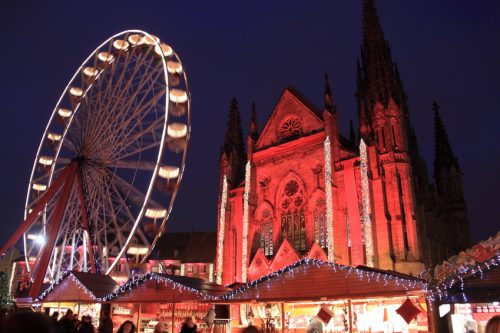 In December, immerse yourself in the magic of Christmas by visiting the Christmas markets in Mulhouse, Basel, and Freiburg, 3 major towns located in the heart of Rhineland.
In southern Alsace our hotel****, La Villa K, makes the most of your trip with its high-quality accommodations and many services (restaurant, wine bar, and spa).
Mulhouse Christmas Market
Birthplace of the textile industry, Mulhouse hosts a Christmas market known for its fabrics. Every year, special designs are created and these fabrics decorate the city's landmarks and the market's chalets. You'll find a friendly, festive atmosphere that celebrates the industrial heritage that is so dear to Mulhouse.
This Christmas market is relatively cosy and is held on place de la Réunion, across from Saint Stephen's church (temple Saint-Etienne).
Meet local craftsmen: they'll invite you to sample Alsatian culinary specialties (bredele, manala, mulled wine…) and you'll be able to browse a large selection of items such as decorations, jewellery, scarves, hats and other handmade products.
Wrap up your visit with a superb view of Mulhouse and its Christmas lights by taking a spin in the Ferris Wheel!
Basel Christmas Market
The large Basel Christmas Market has at least 180 wooden chalets, and extends from Barfüsserplatz to Münsterplatz. In December, Basel hosts one of the most beautiful Christmas markets in Switzerland, decorated with lights that make the city even more beautiful and magical. A cultural city, Basel is no exception to the rule that during the Advent season museums present many temporary exhibitions. Between events, don't forget to taste the traditional Swiss raclette and the Basel "Läckerli", a type of gingerbread. During your stroll, you'll without a doubt pass the large Christmas tree decorated by Johann Wanner, a well-known Christmas decoration designer, who has a store in Basel called "Christmas House".
Fribourg Christmas Market
Fribourg is located in Germany near the Black Forest, in one of the greenest regions in the country. The Advent season is the perfect opportunity to (re)discover this cultural city full of medieval buildings, and to meet festive and welcoming German people.  It's a traditional Rhineland Christmas market with lights that adorn the city, merchants and artisans presenting their wares within pretty wooden chalets, plenty of activities to partake in…Especially impressive is the Christmas nativity scene with wooden figures.
Your stay at the La Villa K
Perfect your stay in the 3 Borders region by dropping of your bags in our 4 star hotel in Saint-Louis (5 minutes from the station and from EuroAirport). Enjoy a full-service "stylish hotel, spa, and restaurant / wine bar" in a casual-chic atmosphere.
For a tranquil trip, we'll take you from the airport to the hotel with our 24-hour shuttle service or you can leave your car in our secure car park!